I'm very excited about my new project- 12Blocks!
Here's an early screenshot: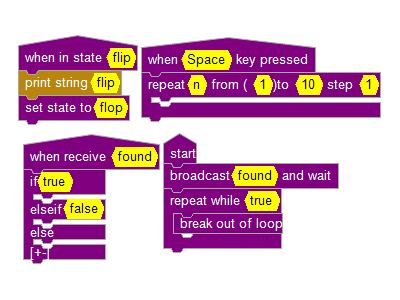 12Blocks consists of:
a top row of main actions
a library of "blocks" on the left, organized into 10 categories
the "program" sheet where you snap together blocks to create your program
and the output pane where you can view the live spin code, your variable's live values, a graph of them, or the status of the io pins
The programmer does not have to worry about cogs, objects, or the associated initialization/data/variables required for each object. You can change a program's parameters as it's running. 12Blocks manages the complexity of polling for events such as key/mouse clicks and starting up cogs.
Spinner is ideal for anyone starting out with the Propeller- it makes it easy to take full advantage of all the Propeller's capabilities. Transitioning to programming in spin with the Propeller Tool is easy as 12Blocks continually shows you the generated code and it opens/saves regular spin files.
A perfect hardware complement is the Propeller Demoboard to let you:
drive a robot with servos
draw graphics for vga/tv
react to keyboard/mouse
communicate with a terminal
output music tones, wav files, record and play back sounds, and synthesize speech
interface with sensors like the PING and a compass
perform input/output on the pins: measure frequency,pulse, count edges…
Coming Soon!